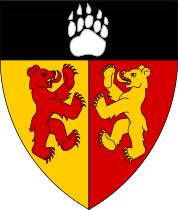 Last Known Residence:
Kingdom of Atenveldt
This populace member has been deceased since 2008
Aliases:
Sean Ladds (R)
Sean of the Lads
(R) indicates the name the person has registered with the college of heralds.
(P) indicates the person's preferred name/spelling.
Blazon:
Per pale Or and gules, two bears combattant counterchanged and on a chief sable a bear's pawprint argent.
---